Elfric Wood Diary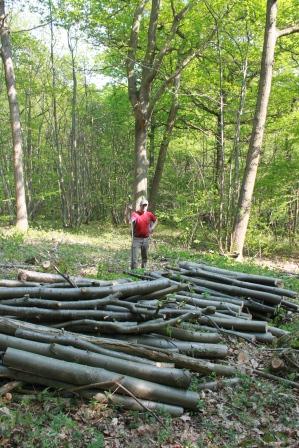 In 2010 we  became the proud, if slightly anxious, owners of 12.5 acres of mixed deciduous woodland. It is typical for the area, a combination of chestnut coppice under story and oak canopy. Unfortunately it has been badly neglected and we hope to bring it back to its former glory.
I expect our antics in these woods will end up covering many years and all seasons, so I'm keeping an informal diary of sorts here. Some of the posts below are specific to our own woods, but many are activities that you might like to try for yourselves, particularly if you have young kids who are keen on adventure.
Woodland Management
We intend to manage the woods in a way that promotes diversity and vigor, not just in the trees but the whole ecosystem. Currently the woods are very dark, having not been felled in over 30 years. The traditional cycle of coppice management should give a patchwork, rich in variety, as sections of coppice are felled sequentially each year.
Letting in light promotes a burst of growth at the forest floor, encouraging wildflowers, insects and other species. By carefully reinstating the coppice cycle, and thinning some of the densest oaks we hope to restore the woods to their full glory, and hopefully have some interesting experiences along the way.
So far we have coppiced one large coupe and thinned some of the oak trees from the canopy. The regrowth is vigorous and already above 6ft high.
Woodland Activities
As well as the "work" (spending a day playing with a chainsaw isn't really work!) we've camped out over night, had school groups down to cook over camp fires, foraged for fungi and gone tracking deer spore! Just spending time spotting different species of plants, and the changes from season to season can be quite exciting - especially when you see the results of your own management taking off.
I hope you enjoy our rather rough woodland diary and find an opportunity to explore the great outdoors. If you have suggestions of your own please use the form to add them below.
Have you done something great and enjoyable in the woods recently?
We love spending time in our woods, whether for days working or just to have some fun. If you enjoy spending time outdoors then please feel free to suggest an activity for us to try or share your story!
What Other Visitors Have Said
Click below to see our woodland diary and suggestions from other visitors...